"The present booklet came about as a result of a fruitful study visit conducted by ACTEDO in Iceland, in June 2023, when our team met with no less than nine civic society organisations and public bodies working on fostering human rights and gender equality in the Scandinavian island. In spite of its small population or maybe precisely because of it, Iceland has been a global trailblazer in the field of human rights: the World Economic Forum has named it the most gender-equal country for 14 years in a row, with over 90% of the gender gap closed [1]. The country has also made significant progress in LGBTQIA+ rights, scoring 71% (where 100% means total equality and protection) on ILGA Europe's Rainbow map 2023 [2].
Over the course of one week, we were received with enthusiasm and openness by representatives of the Human Rights and Democracy Office of the City Hall of Reykjavík, Samtökin '78, The Icelandic Human Rights Centre (ICEHR), The Women's Shelter Association, The Women's Counseling, Stígamót, the Directorate of Equality, the Icelandic Women's Rights Association (IWRA), and Trans Ísland. We also travelled to Akureyri, the second biggest town in the country, where we visited the Directorate of Equality, a governmental organization operating under the authority of the Prime Minister. Special thanks to our hosts: Daníel Arnarsson, Margrét Steinarsdóttir, Svandís Anna Sigurðardóttir, Halldóra Dýrl. Gunnarsdóttir, Hjalti Ó. Ágústsson, Kristín Ó. Önnursdóttir, Linda Dröfn Gunnarsdóttir, Ólöf Bjarki, Katrín Björg Ríkarðsdóttir, and Tatjana Latinović.
A great learning experience as well as an opportunity to share knowledge and practices, the study visit also offered us insights into the strong sense of community and respect for individual rights, liberties, and obligations that the Iceland people possess.
The following pages are based on our team's notes from the study visit, as we tried to capture Icelandic promising practices which could be replicated elsewhere, including in Romania. Therefore, they are in no way exhaustive or comprehensive but merely an attempt to familiarise the reader with the activity of these organisations and - for those of us working in the field of human rights - spark curiosity and potentially a drive to diversify our approaches and methods."
Alexandra Columban
Executive Director
Equality and Human Rights Action Centre (ACTEDO)
Read the booklet Human Rights in Iceland. Promising Practices.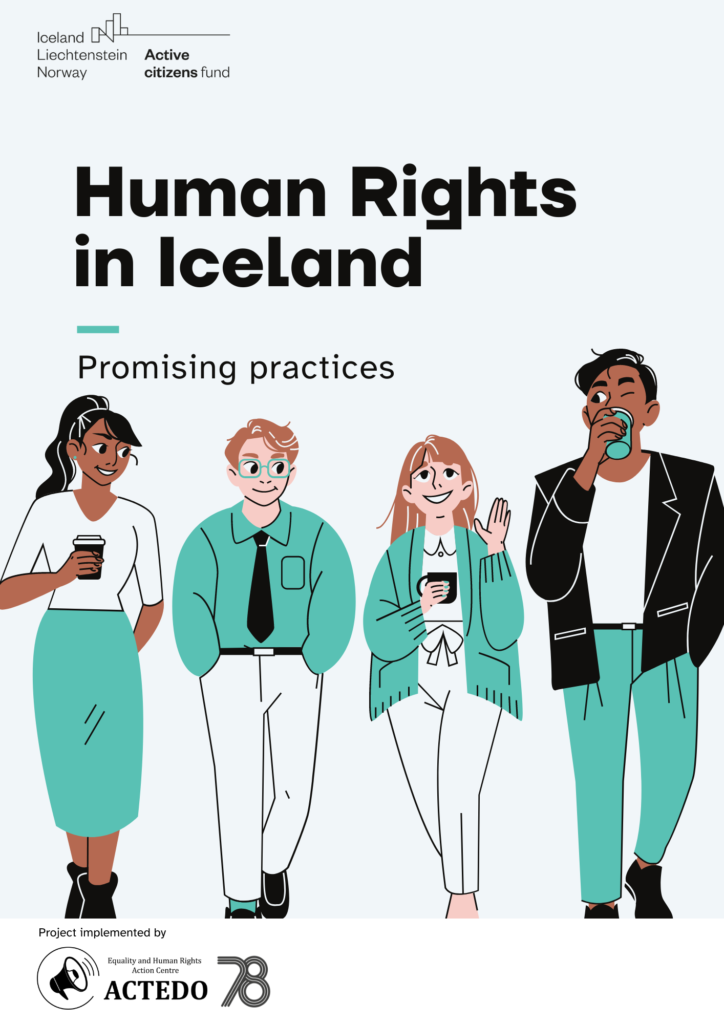 Project implemented by the Equality and Human Rights action Centre (ACTEDO), in partnership with Samtokin 78, with the financial support of the Active Citizens Fund Romania, programme funded by Iceland, Liechtenstein and Norway through the EEA Grants 2014-2021. The content does not necessarily reflect the official position of the EEA and Norway Grants 2014-2021; for more information visit www.eeagrants.org.
Working together for an inclusive Europe.